In order to automate more bookkeeping around your team and it's stats, TomorrowsPro now supports game rosters (lineups). Now you can use your season's roster to print a game roster or lineup card before the game.
To use this new functionality you will have to be a team admin and you will access it through the Team Schedule. Click on the "Set" link under the "Game Roster" column. The following page is where you will set your game roster. There are three categories (Starters, Bench, and NA). Starters are the players that will begin the game while bench players are the players that are available to play but are not starters. The NA category is for everyone else which will generally be players on the roster that for one reason or another are not eligible to play.
The form uses drag and drop to order the players are well and move them from category to category. An example form can be seen below.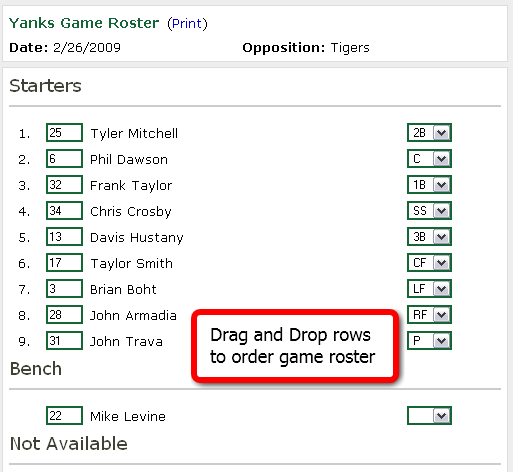 There is also a print version so you can print it out before you go to the game and you won't have to worry about filling it out later. It will also already have positions as well as jersey numbers included so you won't have to scramble before the game.