To create a team on TomorrowsPro.com
Login with your e-mail address and password
Click on "Create Team" under "Teams" in the top navigation bar
Fill in the form as seen in the screen shot below:
Team Name (ex. New York Demos)
Team Location (ex. New York, NY)
Team League (ex. NYC Little League)
Sport (ex. Baseball)
Games Played Percentage required to appear at top of stats (ex. 25% More Info)
Stat input Options (ex. Players can only view their stats) - These options allow you to give your players access to add or edit their stats. It is set to view only by default.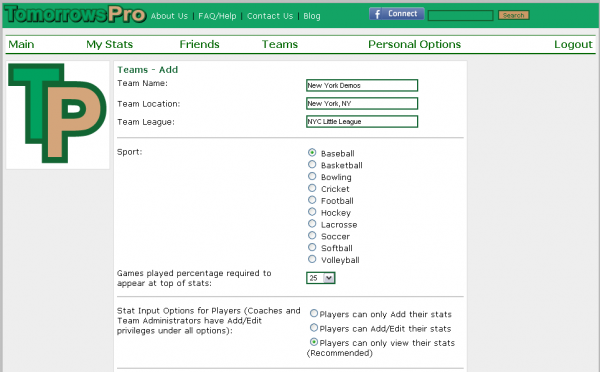 Team form continued:
Team Sharing Options (ex. Public)

Public teams are not indexed by google, but if someone has the URL, they can view your team page. This option must be selected if you want any pieces of your team page to be public. This setting opens up the URL to the public and below you can select which sections of the team you wish to be public.
Private teams only allow members of the team to view the team page. You must appear on the roster in some capacity to have access. This includes Coaches, Admins, Players & Parents.
The most private option has all of the features of the Private option plus one more. Non-Admins (Players & Parents) can only see their stats or their children's stats on the stats page. They will also be able to see the team totals. Note: This does not affect the "Team Leaders" section. It will continue to show the names of the top players and their stats.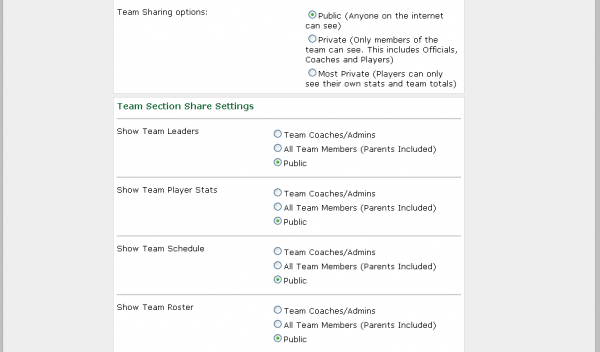 Team Section Share Settings
Each section has three available options for sharing:

Team Coaches/Admins
All Team Members (Parents Included)

This includes every member of any roster on the team including the parents roster.

Public

This option will allow anyone with the team URL to see this section. Choosing this option will only work if you also set the "Team Sharing Options" setting to "Public" as well. That is the master setting and each section can only truly be public if that setting is also set to "Public".

The sections available for sharing options are as follows:

Team Leaders
Team Player Stats
Team Schedule
Team Roster
Team Game Roster/Lineup
Team Parent Roster
Submit the form by clicking the submit button at the bottom and you will be redirected to your new team page which looks as follows: