Many members have started asking how they can get a TomorrowsPro.com e-mail/password login. When you register via Facebook Connect it is incredibly easy because you don't have to enter any registration information. The problem is that without that additional information such as e-mail and a password, you must be logged into Facebook to use the site.
To create a TomorrowsPro e-mail/password login follow these steps:
1. Navigate to "Personal Options" -> "Update User Information"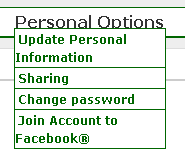 2. Enter in your e-mail address and save the page

3. Navigate to "Personal Options" -> "Change Password"
4. Enter in your desired password and save the form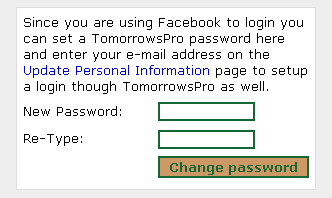 5. At this point you have successfully setup your TomorrowsPro login. Log out of TomorrowsPro and Facebook, then login with your TomorrowsPro login. If you run into any issues, contact support with the e-mail address you used and your Facebook ID Number.