I'd like to introduce the most flexible sharing system we've ever had at TomorrowsPro. In older versions, teams would be stuck with a few options for setting their sharing options. Now you can pick exactly which groups can see which pages.
Heres how it works:
Set the Main Sharing Option
If you would like to set any of the specific share options to public, the team page must be public. This setting trumps all other settings. If this is not set to public, no one outside of your league/division/team will be able to see any piece of your team page. When you do change this setting to "Public", all of the sub-sharing options or section options below will have to be set to public for those pieces to be visible on the public page. If you had already set some of the options to public, they will be visible to the public at this time.

Set which groups can see which pages
The following groups have been created: (Only Team and Public options are available for individual teams)
League Officials
League Coaches
League Members
Division Officials
Division Coaches
Division Members
Team Coaches
Team Members
Public
When using these groups you should look for a few things. The system automatically recognizes that some of these groups are actually included in other groups. If you select team members, you will also be selecting team coaches. If you select public, you are actually selecting every group.
Sharing View for Individual Team

Sharing View for Leagues, Divisions and Division Teams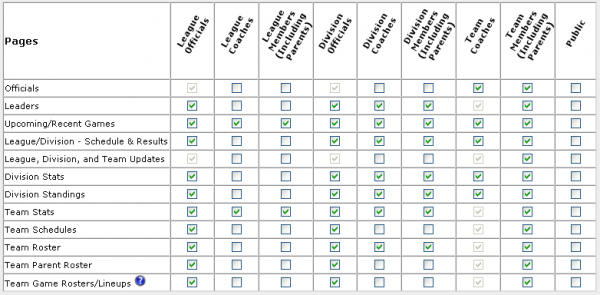 Who gets access through "League Members" and "Divisions Members"?
One important distinction to make is with the different levels of access. If you select "Division Members" then division pages can only be seen by members of that division. Members of other divisions will only have access to their own division pages. If you select "League Members" the division pages can be seen any member of any of the divisions in that league. The same methodology works for teams that roll up into divisions.